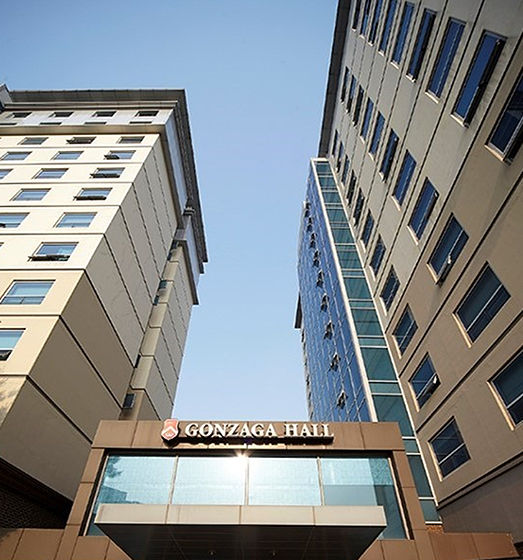 Gonzaga Hall
It is strongly recommended that students stay in the on-campus dormitory 'Gonzaga Hall.' If you choose to stay in dormitory housing, the dormitory fee should be paid in full along with the other fees.
GONZAGA HALL WEBPAGE
2 students per room
Room and board is covered in the dormitory fee (2 meals per day-breakfast and dinner served; no meals on Saturday night; a total of 13 meals per week).
All rooms are equipped with the following essentials: air conditioner, shower bath, toilet, wardrobes, beds, desks, desk chairs, drawer, shoes closet, internet phone and high-speed internet access.
Bed size: Single bed 1,100mm * 2,070mm
Items such as laptop computer, blanket/sheets, pillow/pillowcase, towels, adapter, etc. need to be prepared.
One ID card for dormitory is issued per resident only by the office of Gonzaga Hall. Your ID card should be carried at all times and presented upon request of security staff.
The laundry room can be used 24 hours at room GH-A B106 for women and room GH-A B108 for men. These rooms are equipped with coin-operated washers and dryers.
The fitness center operates from 6:00 am to 1:00 am at room GH-A B109. - Students staying in the dormitory must follow the dormitory regulations. Students who do not follow the regulations may be asked to leave the dormitory. The fee will not be refunded in this case.
Internet access is available in the dormitory rooms.
Korea uses 220-volt outlets. Please bring a converter for your appliances.
Address to receive postal mail : (Student's Name), Gonzaga Hall (Rm. #), Sogang University, 35 Baekbeom-Ro, Mapo-Gu, Seoul 04107, Korea
* The above information is subject to change without notice.